If you find these resources helpful, please join our Action Network email list for more info, resources, and action alerts!

This page is a developing resource and more updates are on the way.
---
Webinars
View webinars here.
Support Groups
View our list of local, national, and international groups for people living with Long COVID and associated diseases, caregivers, family members, friends, and more.
Resources for Journalists
View our Resource List for Journalists Covering Long COVID, Disability, and Complex Chronic Illnesses.
Guides & Toolkits
Practicing Inclusion in the time of COVID
A brief guide for gatherings and call for disability solidarity, created by our parent organization Strategies for High Impact in partnership with What Would an HIV Doula Do? Available in English and Spanish, or share via social media: Instagram, Twitter. Have a story to share about using this guide with your group? Write us at [email protected]!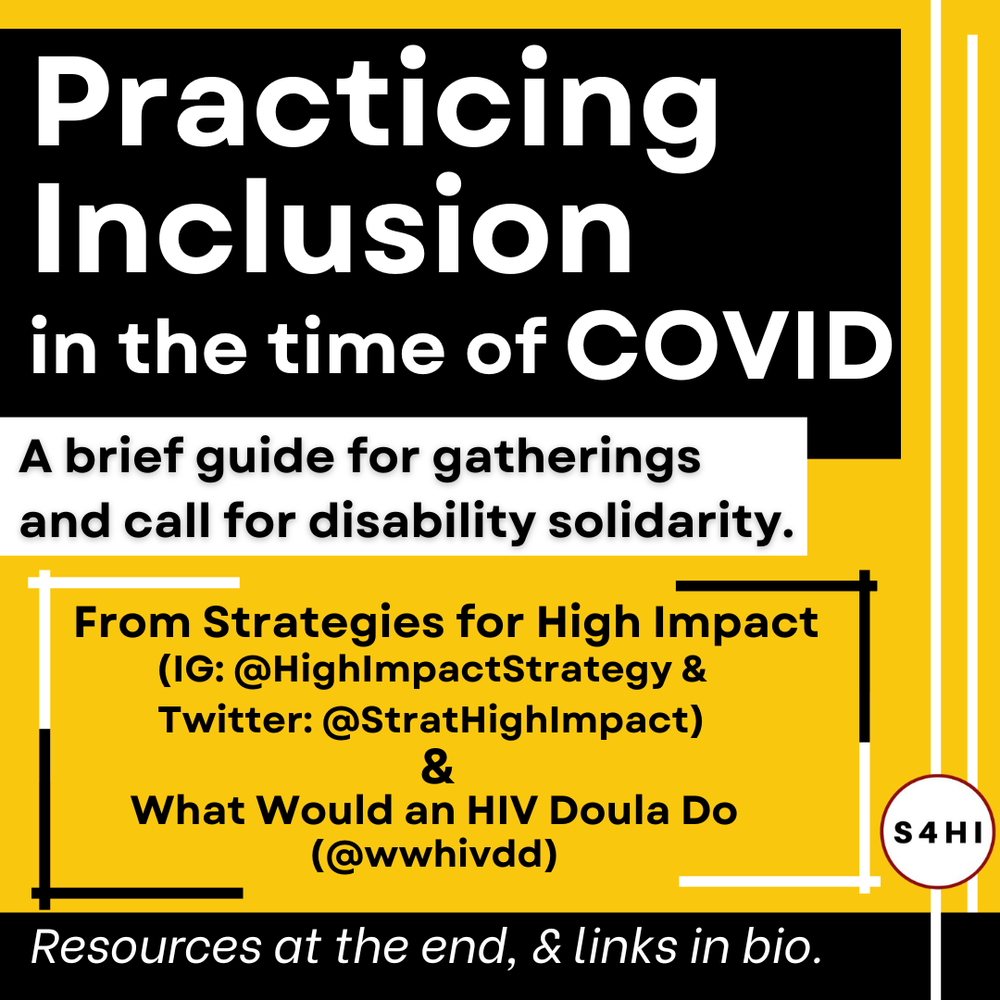 Organizing Toolkit to Keep Masks in Healthcare
This toolkit provides ideas for taking action and calling for mask requirements to continue in hospitals and other healthcare settings. Created by COVID Advocacy Initiative/Mandate Masks US and COVID Safe Campus with the support of Long COVID Justice and many other groups.
Prevention: Masks, vaccines, and more
Medical, self-care, and pacing resources
For people with a current COVID infection
For people living with LCAD + their supporters
LCAD + HIV
Long COVID may be 4 times more likely in people living with HIV. Check out our HIV & Long COVID webpage for resources and info.
For clinicians + medical providers
Share these with your providers – or if you're a provider, share with your colleagues.

For researchers
Disability Resources
LCAD & Disability
Other resources
Additional resources coming soon.